Legislators propose two-year moratorium on interstate tolling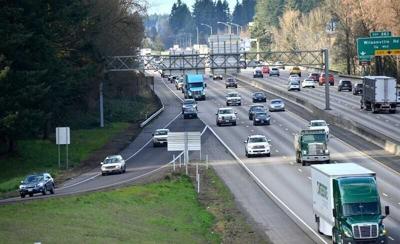 In response to mounting concerns from constituents and local governments, legislation has been proposed to place a two-year moratorium on tolling.
House Bill 3614, introduced Wednesday by Reps. Courtney Neron,D-Wilsonville, Jules Walters, D-West Linn, and Annessa Hartman, D- Gladstone, and cosponsored by a bipartisan slew of legislators, would prohibit tolling on state highways until Jan. 2, 2026. It excludes tolls on I-5 bridges that cross the Columbia River.
The bill would also create a task force to study the impact of tolling and ways to mitigate negative effects. The task force would be composed of representatives from the Oregon Department of Transportation, a county government where tolls are proposed, municipal governments of cities located near proposed tolls, the League of Oregon Cities, the Association of Oregon Counties, TriMet and Metro. The task force would also include members who represent the interests of road users, the trucking or freight industry, climate change advocates, bicyclists and transit users.
The proposed legislation comes after public outcry against ODOT's plans to implement tolling on I-5 and I-205 as a means to fund infrastructure improvements. At an April 14 public forum with ODOT in Charbonneau, attendees noted the expense tolls would impose on their daily travels through the region and offered alternative solutions for funding, such as increasing vehicle registration fees.
With the Boone Bridge as a potential gantry location, Charbonneau residents are concerned that they could be forced to pay every time they cross the Willamette River to access Wilsonville's commercial hubs. A proposed bill sponsored by Sen. Aaron Woods,D-Wilsonville, Senate Bill 771, would have exempted drivers with a Wilsonville address from paying tolls on Boone Bridge, but it will not move forward this legislative session.
"My office hosted a Tolling Forum in the Charbonneau community, and we had 350 attendees from all parts of the region," Neron stated in a press release. "An ODOT tolling study found that between August and October 2020, ODOT received 4,600 survey responses, the majority expressed opposition to the current proposed plan, and we have yet to hear a response from ODOT. We need the two-year pause and task force in HB 3614 so my community can have the meaningful engagement they deserve."
Much of the legislators' frustrations result from a lack of communication from ODOT with communities impacted by the proposed tolls, according to the release.
"For the five years I served as a city councilor, mayor, and now state representative, I've attempted to work with ODOT and provide feedback about how this plan will negatively impact my district," Walters stated in the release. "My constituents are already feeling the dangerous effects of traffic coming off of both I-5 and I-205 and overburdening our neighborhood streets. ODOT has not demonstrated how they plan to mitigate the costs to cities, local businesses and residents associated with that diversion."
Added Hartman in the release: "I know what it feels like not to be able to afford an extra $12 to $25 a day, and I can imagine how this tolling plan might burden a single, working mother who may drive all day doing a variety of service-industry jobs just to get ahead."